Office space is a reflection of a company's work culture. If appropriately designed, it does not only have a positive impact on the employees' well-being but, first of all, enhances their engagement and improves the efficiency of work.
We pride ourselves on: the reputation of a steady employer, fantastic work atmosphere and development opportunities. We wanted to communicate all of these through the design of our new office. Have we succeed? We hope so!
In our history, we have moved office a few times. On every such occasion we wanted the new office to be superior to the previous one – more comfortable, spacious and modern. We also chose the most attractive locations in Lublin. Taking into consideration the rapidly growing number of employees and the dynamically changing structure of our companies, meeting these requirements was not an easy ride. However, as it usually happens with rented premises, it was always us who had to adjust to the given space and not the other way round.
Last autumn we moved to new offices, leaving the 'Lublin Manhattan', and crossed the threshold of IT Office Park – offices designed from the very beginning with our companies in mind. Our new space takes into account all our needs as well as conclusions drawn from occupying previous locations.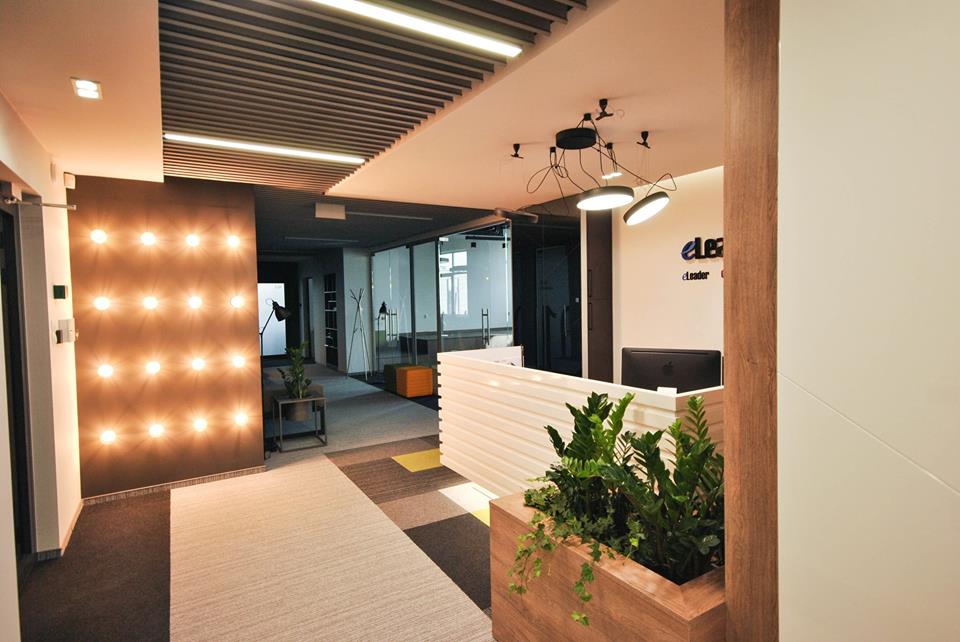 The most significant change to the way we worked until recently is the farewell to open space. Open-plan office space – once the latest trend in workspace arrangement – had its merits, but unfortunately also a number of drawbacks. Did you know that working in an open-plan office decreases productivity by 15%, while the comfort of work is lower by 32% compared to work in a closed-space offices (source: Puls Biznesu magazine)?
Even without hard data, you have probably had a chance – to some extent – to see it for yourselves. Multiple conversations carried out at the same time in different parts of the office caused constant hustle and bustle. While the level of noise was not very high, it still contributed to distracting, irritating and generally causing a great deal of nuisance in the long run. For this reason, an improvement in the physical comfort of work through noise reduction and combating the impression of "crowdedness" at the office were the priorities. We abandoned the open system in favor of a closed system with smaller offices, which offers us an escape from the open space buzz. The new offices are spacious, bright, non-distracting – but not dull either. Definitely, they help to focus and work more effectively.
Apart from the troublesome open space, we got rid of a number of other inconveniences and gained a vast space fostering creativity.
The design office we appointed faced quite a challenge. Our space amounts to almost 3000 m2. The companies that occupy the premises – each with its own style and color scheme – all share the same values and organizational culture. The new offices were designed to reflect the character of particular firms, but simultaneously they are supposed to retain the cohesion of eLeader Group. Nature was chosen as a leitmotif of the whole design.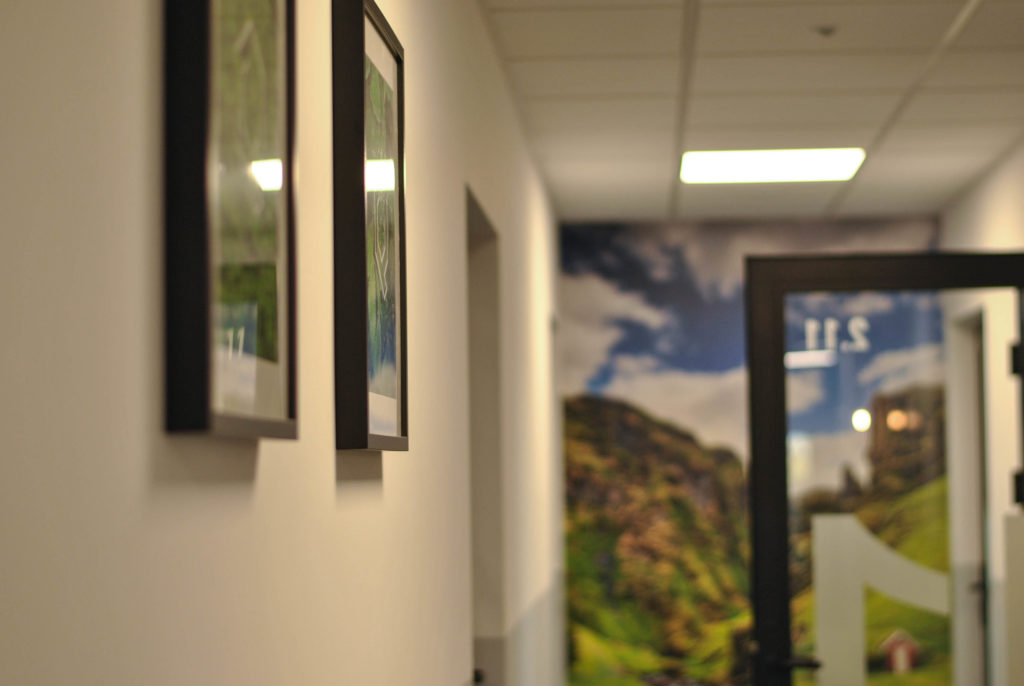 We strived to diversify particular parts of the office and appeal to the tastes of our employees. So, this is why you will find here a mixture of industrial, loft and club styles. We have plenty of plants, natural building materials and warm colors, but also modern designs and stimulating azures, so everyone should find here a cozy nook for themselves. Need a break? You can recharge your batteries in our relax zone. The beautiful interior with comfy armchairs and couches, a fully equipped kitchen, plants and the scent of freshly brewed espresso wafting through the air… all of these guarantee an ideal retreat for those who need to recharge while still at work.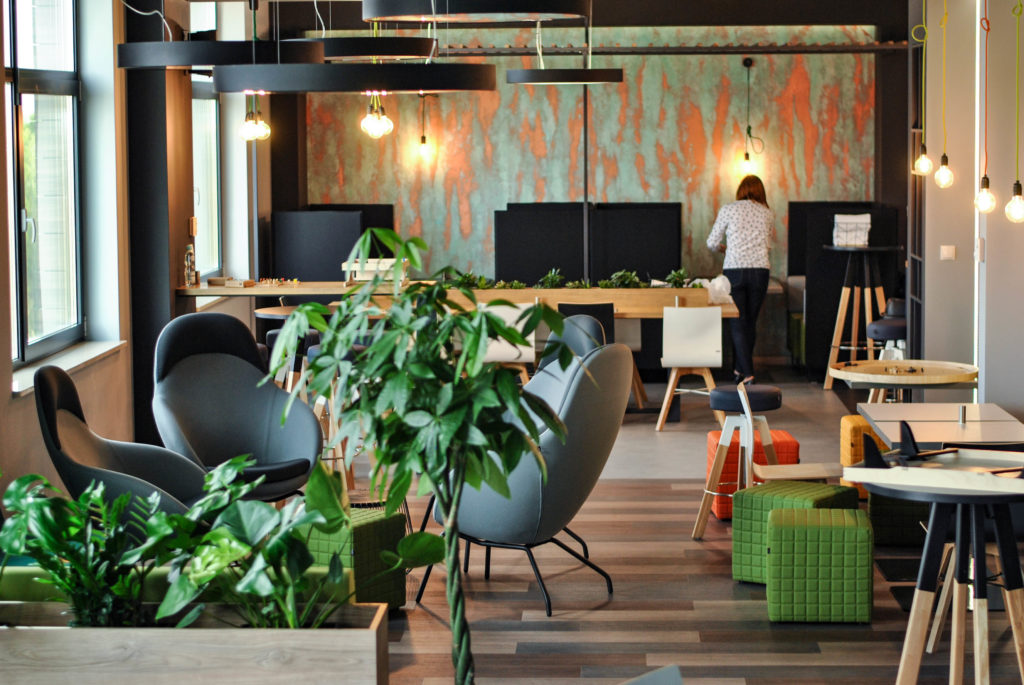 In addition, the new office features conference halls and teleconference rooms – a lot of space which facilitates good communication without disturbing other people's work.
When designing office rooms, we cared both for detail and the cohesion of the concept. Our history is indelibly linked with the development of smartphones. Over all the years of the company's presence on the market, we have also gathered a substantial collection of testing tools which, past their heyday, rested forgotten somewhere in the depths of our office cabinets and waited to be displayed in a museum. Partly out of sentiment and partly out of respect for all those well-worn devices (how many thousand test-scenarios were they used in? :)), we breathed new lives into them.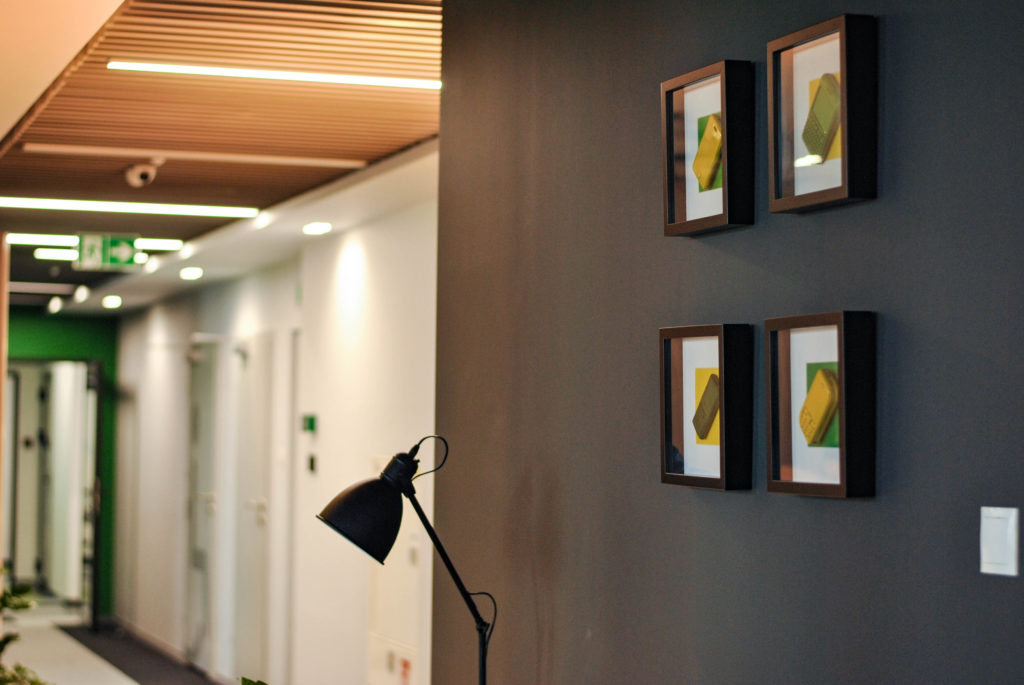 These are only a few "flavors" of what you can find in our new office. It gains even more at closer acquaintance, so come and visit us in person.